The success of Sudbury Silk Mills relies on a happy and healthy team and there are a wide range of benefits available to everyone working here. The staff committee gives a forum to explore what benefits are most important to the team so that we can offer things that make a meaningful difference.
Working benefits
>  Occupational Health and Wellbeing services (EAP)
>  Company social events
>  Opportunity to have your say
(staff survey and Staff committee)
>  Personal development reviews and regular one to ones
>  Holiday purchase scheme
>  Company funded training.
>  Long service rewards
Financial benefits
>  Profit share
>  Enhanced pension contributions and pension surgeries to
help you plan for retirement.
>  Enhanced company sick pay and paid medical appointments.
>  Enhanced paid holiday pay.
>  Free onsite parking
>  Company funded training.
>  Company funded Life insurance to pensionable age.

days holiday per year, plus bank holidays

of the cost of training for courses that benefit the business

staff discount in the mill shop

access to support with issues affecting your health or wellbeing through the EAP programme.
Our nourishing working environment
Access to Occupational Health and Well Being Services (EAP)
EAP (Employee Assistance Programme) is a confidential employee benefit designed to help you deal with personal and professional problems that could be affecting your home or work life, your health or your general wellbeing.
The Health Assured EAP service provides a complete support network that offers expert advice and compassionate guidance 24/7, covering a wide range of issues. They strongly believe in providing an EAP service that offers not only reactive support when someone needs it but also proactive and preventative support to deliver the best possible outcomes.
Company Social Events (Events Team)
The Events team organise social events for the company to bring people together. A trip to the races, a family open day and an evening at the local bowling club are all events funded by the company that have taken place recently. The team offer a range of events to engage the workforce and celebrate companywide success. The group's resource also goes towards building links with local charities and the surrounding community. The company's chosen charity is Suffolk Accident and Rescue Service (SARS), but other charitable events and schemes are promoted though the Events team.
Opportunity to have your say (Staff Survey, Staff Committee)
There are numerous ways in which everyone has an opportunity to have their say.
Everyone can represent themselves and their department across a wide range of platforms such as Departmental improvements, Companywide surveys and Working/Action Groups. The Staff committee was specifically set up to capture any issues not already covered by the other areas.
Improvement activities in all departments means staff can put forward their ideas to improve working practices, quality and safety and Companywide surveys are a great way to gather information, receive feedback and make positive changes.
What our staff say about us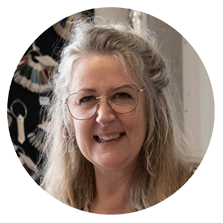 "I work on a variety of things"
You're either working on projects for tailors or upholsters or a one-of-a-kind bespoke project. The fabric comes through, and you think, ooh I like that!
Rachel Claydon
Pattern Library
"It's great that we celebrate success"
We have a profit share scheme. Last time it was announced, we all had a nice little glass of champagne. I think it's lovely because you feel appreciated here.
Michelle Beckinsale 
Admin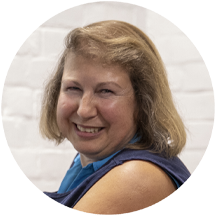 "I am proud to say, we did that"
You start from a couple of threads from a bit of old fabric and when you see it on the loom, it's just mind blowing. Each department adds their own bit in the process.
Karen Roberts 
Quality Assurance