We recognise that our people determine our success, and we believe that everyone in our organisation is consciously considering human rights. Our culture is one of openness, integrity and accountability.
The best organisations figure out how to get great outcomes by setting the appropriate context, rather than by trying to control every individual action. Context provides the insight and understanding to enable sound decisions to be taken. We are at our best when people can do what they think is best; but if they don't know, they can ask.
Our purpose is to grow and develop a sustainable business by behaving with integrity towards our people, our customers, our suppliers and the wider community – while retaining employment in Sudbury.
We embrace our responsibility for ensuring that human rights considerations are integral to the way in which existing operations and new opportunities are developed and managed. Respect for these fundamental principles is integrated throughout our organisation and the organisations we work with.
Health, safety and wellbeing
Health, safety & wellbeing is critical to all and a clear priority for us. We recognise the necessity of safeguarding the physical and mental health and safety of our own people while at work, and we work hard to provide a safe and comfortable working environment for staff members, visitors and the public.
Retaining people and development
We continue to invest in people and encourage their further development. This not only includes utilising impor- tant internal and external training and development programmes, but also providing clear leadership and decisive action to ensure that we have the right capabilities and best talent to match our growth ambition.

Environmental responsibility
We ensure environmental issues, including climate change, are considered in the operation of our business and the procurement of goods and services. We are proud to be a demand driven luxury manufacturer, weaving only for customer demand, and not producing textiles for unwanted stock.
Our commitment to sustainability
We are committed to the protection of the environment and reducing the impact of the business on the natural world.
These requirements are an integral part of every decision that we make. We believe in a responsible approach to product development, manufacturing, material supply and transportation – for example through reduced energy consumption, improved resource conservation and minimising our waste, carbon and water footprints.
All our dyestuffs are REACH compliant and entirely Azo-free, with signed declarations from dyestuff and chemical suppliers in compliance with the ZDHC MRSL. Our chemical inventory and management systems determine that all our chemical products meet the sustainability requirements of Oeko-Tex STeP and ZDHC.
We measure and take action to reduce our Scope 1+2 carbon footprint which is reported in our annual responsibility brochure. This is achieved through small- and large-scale energy efficiency projects and process improvement. In 2023 we moved to a renewable energy contract.
Our waste water is tested annually by Anglian Water and also by an independent laboratory to the strict OEKO-TEX STeP ® standard. The effluent generated by the dyeworks at Sudbury Silk Mills is pre-treated to remove all organic matter, through oxidation rather than filtration, so there is also no waste or slurry.
Waste reduction follows the principals of the 5R's; Refuse, Reduce, Reuse, Repurpose and Recycle. Making smart design choices, manufacturing right first time and recycling a greater proportion of general waste and textile by-product. We remain a committed zero-landfill site and are proud of the role our Mill Shop plays in this ambition.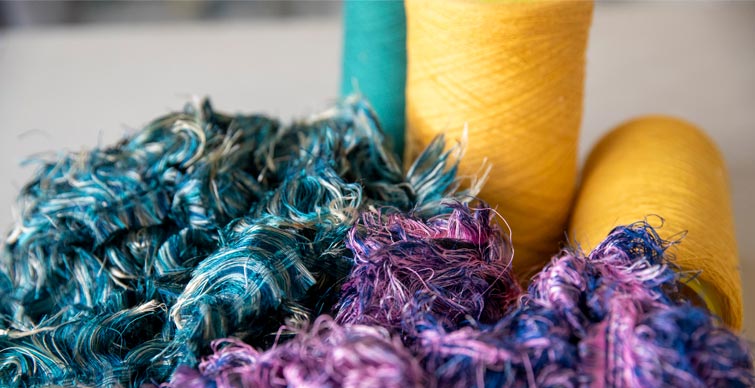 We set ourselves demanding requirements with regard to environmental protection, social responsibility and our commitment in the field of sustainable production conditions.
STeP stands for Sustainable Textile & Leather Production and certifies the manufacturing process for environmentally friendly and socially responsible production facilities. OEKO-TEX STeP ® is an independent certification system that allows us to communicate our environmental measures externally in a credible and transparent way.
Requirements robustly and comprehensively cover;
Chemical management
Environmental performance
Environmental management
Social responsibility
Quality management
Health protection and safety at work
We are proud to be the first UK Textile Manufacturer to be awarded OEKO-TEX STeP ® certification and achieving the highest level 3, which demonstrates Ideal implementation in the sense of Best Practice examples
Responsible production for people and planet. OEKO-TEX® STeP 19001067 Institute www.oeko-tex.com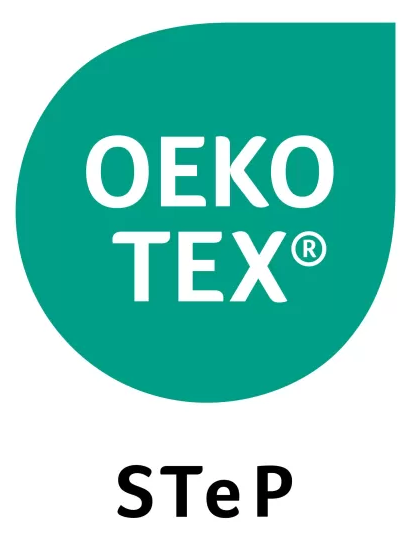 Raw materials and supply chain traceability
Our raw materials are carefully selected, and our supply chain is managed to offer great diversity, quality and performance of the range of products we can produce, while mini- mising the impact on the environment.
Social and ethical credentials are already a key factor in the sourcing and introduction of new yarn types, and we are commit- ted to a continuous improvement plan for our existing yarn types.
Ethical yarn choices have many considerations; animal welfare and husbandry, regenerative agriculture and biodiversity, water use, chemical and pesticide use, social and welfare conditions of producers and workers; all while retaining the supply reliability and quality.
Supply chain transparency
As a Tier 2 textile manufacturer our whole supply chain is mapped and audited to give transparency to the country and region. This goes back through Tier 3 (yarn spinning and dyeing) to Tier 4 source (raw material production).
Raw material suppliers compliment our vertical production; meaning key stages of the production process are carried out on our single site in Sudbury. The entire process, from design concept and development, yarn dyeing, warping, weaving to finished fabric can be followed through the factory.
We are committed to the protection of the environment and reducing the impact of the business on the natural world.
Our purpose is to grow and develop a sustainable business by behaving with integrity towards our people, our customers, our suppliers and the wider community and environment – while retaining employment in Sudbury.